Secure File Sharing for Win CE Devices via SMB3
Visuality Systems, in partnership with Toradex, offers an effective solution for Windows Embedded Compact devices to securely share files via SMB3 protocol.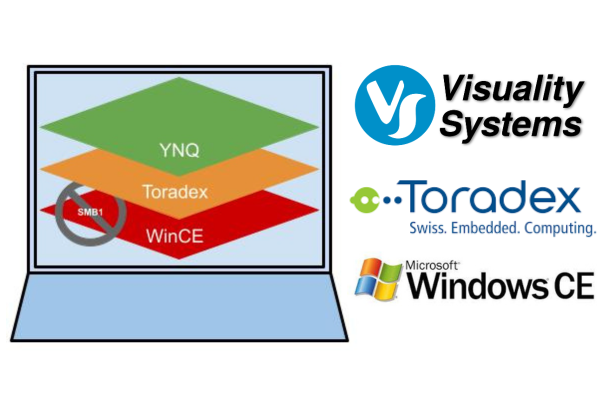 With this easy-to-integrate solution, WinCE devices can now connect with any SMB-supported machines, including the most recent ones where SMB1 has been removed, and enjoy fully supported and secure file sharing, without affecting the user experience. 

Get rid of SMB1
At Visuality Systems, we understand the challenges faced by companies using WinCE due to its lack of support for SMB protocol versions 2 and higher. The outdated and unsafe SMB1 protocol, which is still being used by a significant number of companies, is no longer supported by Microsoft and poses a considerable security risk. Visuality Systems' YNQ™ is the answer that fully supports up-to-date connectivity to Windows servers and hosts.

Add SMBv3 capabilities to WinCE file sharing
Visuality Systems' YNQ™ solution, developed for embedded devices and IoT products, equips WinCE file sharing with SMBv3 capabilities. It offers efficient, secure, flexible, and resilient interoperability with any Windows-based machines and ensures compatibility with new Microsoft OS updates. The YNQ SMB3 implementation seamlessly integrates into the Windows CE OS, without requiring any change to existing customer applications.
With Toradex's smart installer and dedicated port, the activation of Visuality Systems' SMB file-sharing libraries on Windows CE systems is easily achieved. The YNQ driver fully replaces the outdated SMB1 Microsoft implementation and grants SMB3 capabilities, providing new connectivity and full security when connecting to any current and future Windows OS.
Network shares are intuitively integrated into the Windows CE file system. Their mapping can be done with the normal UI or using APIs (e.g., WNetAddConnection3). The SMB client looks like this: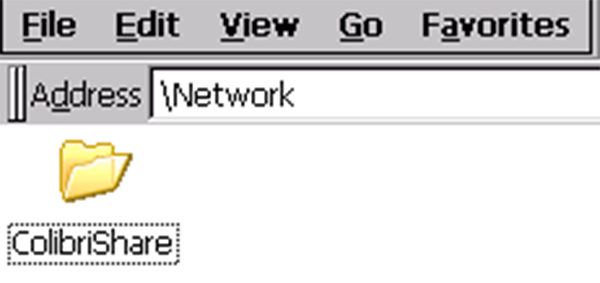 The SMB server folders can be configured through the web-based, WinCE's remote management tool, represented in the following screenshot:
The YNQ solution ensures business continuity for WinCE devices and offers the highest level of efficiency and security for file sharing. Visuality Systems' strong collaboration with Microsoft guarantees a well-maintained solution that is continuously updated, future-proof, and backward-compatible.
In conclusion, Visuality Systems and Toradex's successful partnership offers a comprehensive solution for WinCE devices, enabling them to overcome the risks and disadvantages of SMB1 without requiring significant upgrades. You can securely share files via the most advanced file-sharing mechanism, with the full support of Visuality Systems.