Fully scalable, robust, continually updated Pure Java SMB library
The only Java solution with full SMB3 support
The jNQ™ SMB client library is the industry's top priority replacement option for the JCIFS library where SMB2 and SMB3 are required. JNQ is a continuously updated, extensively tested against all latest Windows machines and industry common servers, pure java SMB library that includes all registered patents. Offering personal, fast-response SMB3 professional support, JNQ is reliable, robust, and highly scalable.
What our Customers say about us
File and folder operations: Create, read, write, get info, etc.
Network browsing: Browser, WSD
Built-in RPC support: SAMR, LSA, WINREG, SRVSVC
Get list of Active connections
Internal connection cleanup
Retry and internal reconnect mechanism
Compliant with all relevant Microsoft specifications
Name resolution functionality by means of NetBIOS, WINS, DNS
Security: jNQ™ is a tightly secured system offering:
Authentication with LM, NTLM, LMv2, NTLMv2, NTLMSSP, SPNEGO and Kerberos
Domain (AD) authentication
SMB encryption
Message signing
Pre-logon integrity
File and folder operations: create, open, rename, info, setting exclusive access
File operations: read, write, read async, write async
Network browsing support
DFS
RPC support: SAMR, LSA, WINREG, SRVSVC, DSSETUP. All of the above are extendable. A generic DCERPC framework can be used for developing more RPCs
Transparent fail-over (support of persistent and durable handles)

Visuality Systems' JNQ file-sharing solution for Java applications now operates also using SMB over QUIC, for providing end-to-end encryption, shortening connectivity time, improving overall connectivity performance, and discarding the need of using VPN.
The QUIC transport is available for JNQ clients as a pluggable add-on, by a proprietary implementation of Visuality Systems.
Using this simple add-on, JNQ can utilize SMB over QUIC for supporting higher-performance connectivity to file servers.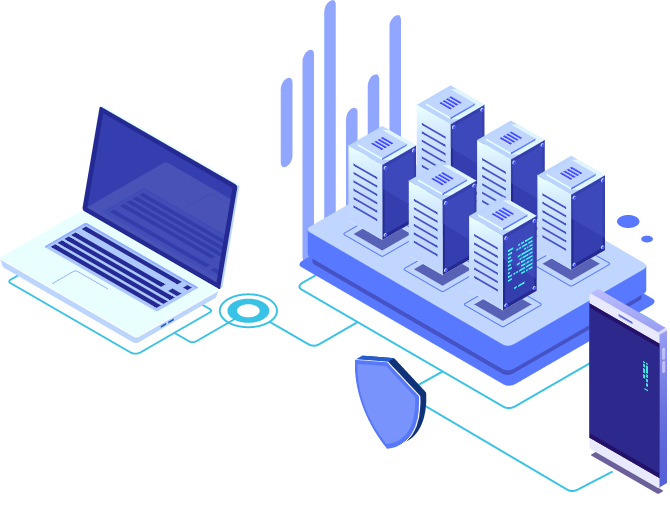 Perform POC guidedby documentationand personal
support
Integrate jNQ into the project
What sets Visuality System apart?
Guiding the Client All the Way Through
Upgrade your product today with a fully scalable, robust, and continually updated SMB client library with 24/7 dedicated, rapid response support.
Other Visuality Systems Solutions